Crowd testing is a way of sourcing testers from a diverse range of experts to test your software package, application or product. Crowd testing scales your testing resources by crowdsourcing freelance testers, consultants and companies to provide testing expertise for your testables. Most crowd testing services provide platforms that integrate with your current work flow and help manage your projects. In addition crowd testing services can allow you to select your testers and or offer a managed solution for your project.We reviewed 10 of the most queried crowd testing services available today.The candidates selected for review include:
Testlio is an early mover in the crowd testing space and the originator of networked testing. Networked testing is a modern take on crowdsourced testing. They boast testers in 100s of countries which is good when you are looking for localization testing for your projects.

Key Features
Pay buy the hour, not by the bug
Large pool of testers in 100s of countries
Can test any device, location, language or internet connection
Managed testing service
A crowd testing company that offers agile testing for their customers. Digivante's platform helps companies identify every issue before they go live. They are a comprehensive regression testing service where testing will be completed in hours instead of days. They offer solutions designed to boost digital performance or your app or website so you are competitive in the market.

Key Features
Functional testing
Regression testing
LIST ALL TYPES OF TESTING
Accessibility testing
Usability testing
Digital Revenue Calculator
Management Platform
Testing portal
API
3rd party integrations
Ecommerce conversion analytics
WebDriverIO is a custom extension of Selenium's Webriver, written in Javascript, and requires Node.js to run. A testrunner client is included which has the ability to create and execute both web and mobile test automation. WebDriverIO is an operating system and language neutral tool that allows introspection and control of user interfaces. With WebDriverIO the tester can accomplish more with fewer lines of code than they could in Selenium.

Key Features
24/7/365 testing and scalability
On-Demand web and App testing
Load Testing
Actual Device testing
Update testing ability
Dedicated testers for specific testing types
Device specific testing, No Emulators
Test Analysis
Test Reports
Screenshots of tests
API import of test results
3rd party integrations
Test.io offers Testing-as-a-Service(TaaS) to scale your capacity and capability. They deliver a full range of web, mobile and Iot testing through their platform and pool of testers. Just upload your app or share your website URL and they can test your app with 1000s of skilled testers from all over the world.

Key Features
Continuous Delivery and waterfall methodologies are supported.12,000 + testers
Initial results delivered within 1 hour of test start
Offer Bug Bounty
3rd party integrations
The leader in Penetration-Testing-as-a-Service (PTaaS), Cobalt is the leader in crowd testing of your security vulnerabilities. With a highly skilled and vetted team of testers you are able to receive real-time insights when they are testing your mobile and web applications hosted on external networks or the cloud.

Key Features
PenTesting
Focused on security
PTaaS Platform Web App
Exclusive community of testers
Test Scheduling
3rd Party tool integrations
Report generation
Cloud Penetration testing
Con – used by malware criminals to find exploits in your application
Usertesting is a usability and customer experience testing platform that provides on-demand feedback for your website or app. They source the target market for you and review your site or app to eliminate bad user experiences. The service is used by marketers, designers, UI/UX teams and development teams to include executives, product managers and developers. Anyone who builds a digital product on the web or an app can use Usertesting as a user testing tool.
UserTesting has a video-first platform where your test users will tell you their reactions and first experiences to your design, products, app, website, concepts or brands when they arrive.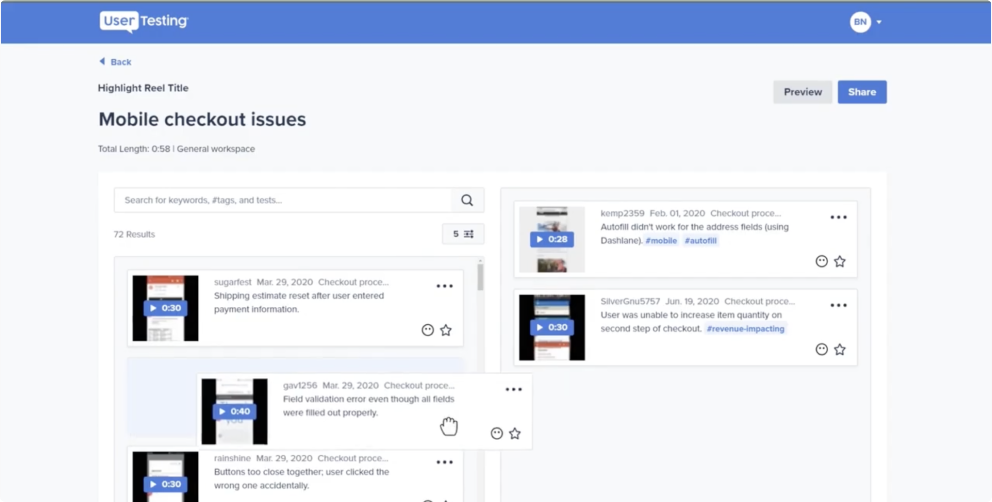 Key Features
Usability testing
User reports on how your product is compared against your competitors
Tester panel of users who fit your business segment
Straightforward and transparent to onboard testers
Testers from all over the world who have strong english skills
Video-First platform for user feedback
Survey Questions
3rd party integrations
Crowdsprint covers testing from usability to in depth test execution and management. They provide concept to finish testing to include UX, functional and regression testing. Crowdsprint relieves operational blindness an organization may have regarding their product testing. They take over and make sure that the product being developed meets the needs of the product requirements.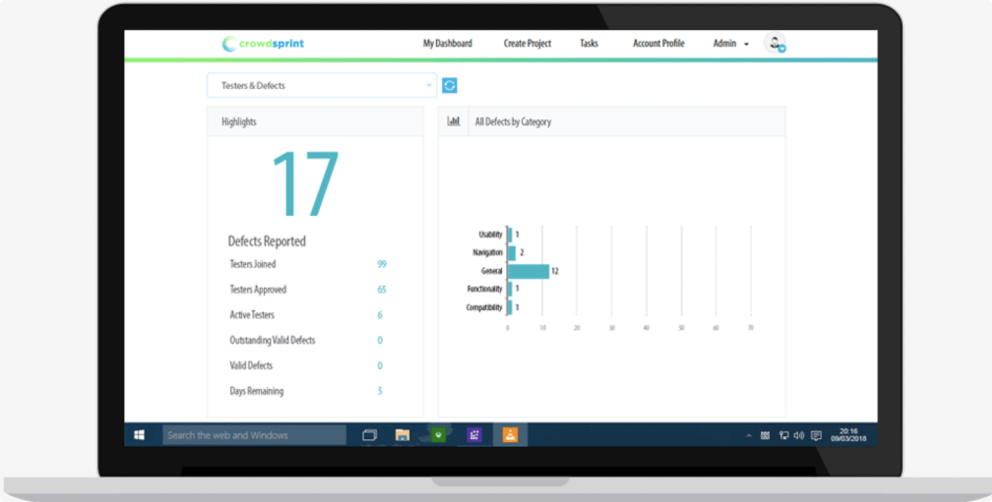 Key Features
Mobile, Web and Cloud Testing
Dedicated test and delivery manager
Testing on devices not emulators
Testing at every stage of your lifecycle
Test and Delivery Manager product
20,000 testers in 100 + countries
Users from your selected demographic
Defect management provided
Testbirds is a crowd testing service that focuses on usability testing platforms for websites, apps and Iot. Whether you want a quick usability test or for testing and management, Testbirds provides a service for you. They test performance, UI, UX and functionality based on your requirements. Test Birds takes a Tailor-made approach to your quality assurance and user needs.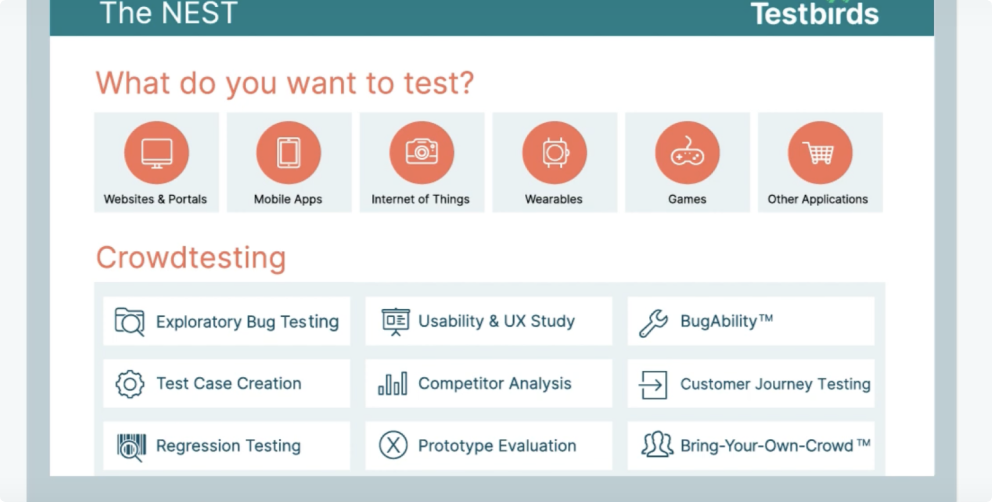 Key Features
600,000+ crowd testers
1,000,000+ physical devices to test on
Web based testing platform
Birdcoin currency
20+ testing services to choose from
3 Service options
Self Service option
Managed Service option
Bug Export to Jira
Tiered pricing structure
Userfeel is a testing system that allows you to filter and select testers based on the demographics of your target audience. You can select testers with userfeel or send a link to your own testers to include them in your tests. Boasting 140,000 testers and 40 languages, userfeel will accomplish your testing goals with proprietary tools such as the System Usability Scale(SUS) metric and video sharing and audio capture of your tests. They have more than one pricing model with the basic pricing structure being $60 a test.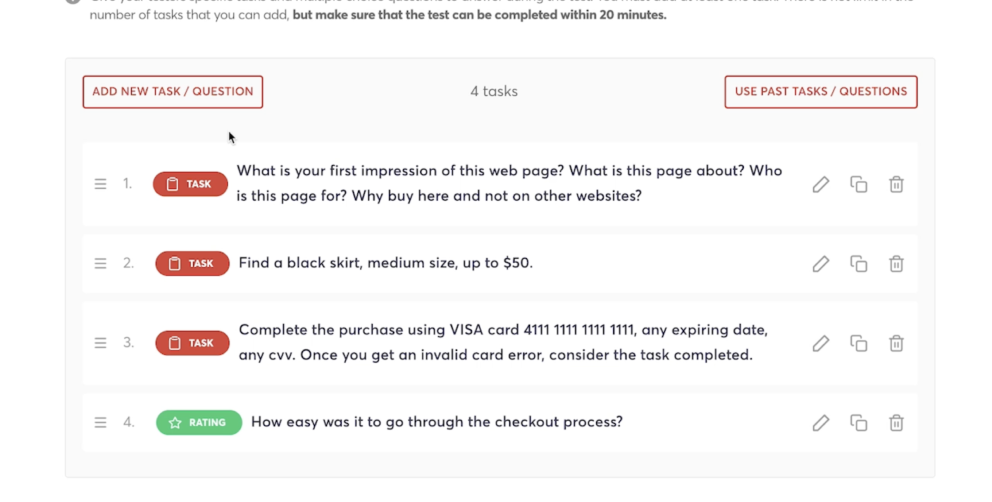 Key Features
No subscription
Use your own testers (Can send link out to people they want to use or have already)
Demographic filter for testers
Screener questions
Flat Fee for testing $60 a test
40 languages supported
Tester Recruitment
Video engagement with tester
Audio Capture
Video Sharing
SUS System Usability Scale
Reporting
User test Quality Guarantee
Free replacement of any tests you are not satisfied with
Applause
Applause is considered a worldwide leader in crowd testing for digital products. They are an enterprise-grade testing platform that supports testing of websites, mobile, iOT and usability. They offer real world feedback with curated testing teams matched to your needs. Applause is a mature system that is used by many top brands. They are best suited for the medium to enterprise business
Key Features
Largest community of digital experts
200+ countries
400,000+ on-demand testers
Vetted, Trained and certified testers
Actual Device testing
Functional testing
Accessibility testing
Security testing
Mobile SDK
Web Platform